YASKAWA Inverters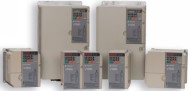 Inverters made by world's leader Yaskawa are of the highest quality and reliability.
They are best fitted to any kind of application – form pomp stations, through mixers to sophisticated machines where proecision on low speed is cruciual:
J1000 series – U/f control
V1000 series- U/f, OLV control, can be coupled with PM motors
L1000 series- lift OLV/CLV inverter
A1000 series- top end inverter, U/f, OLV, CLV for IM and PM motors
YASKAWA Servodrives
SIGMA-V servodrives provides excellent precision and reilability. With autotuning and anti vibration function they are easy to apply in any kind of machine.
The new SIGMA-7 series is design with the concept of fast applying in new systems, the best performance and reliability of its ancestors.
Zobacz więcej…
YASKAWA Motion controllers
Servodrives interface – Mechartolnik III
Available in verision for 4, 8, 16, 32 axes
Built-in ModbusTCP, Ethernet IP protocols
Expandable by base mount IO modules
Expandable by network IO units
Built-in solutions for typical mechaical systems such portal or delta robots.
Built-in multilevel CAM system